We're currently beta testing V4.1 of iSMARTtrain. In this release, we've added two new features related to cycling power analysis. To try out the beta version, visit our beta site.
Power Duration Graph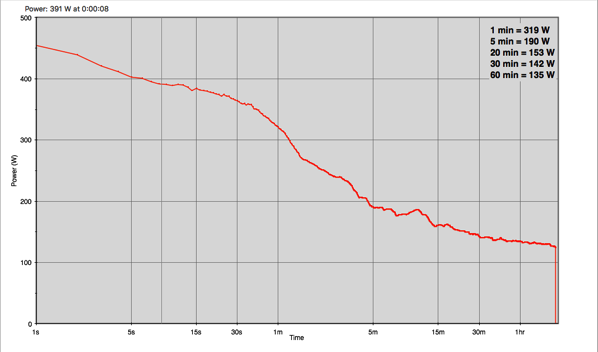 The Power-Duration graph shows the maximum power averaged for each given amount of time. It scans through your session, finding your maximum one-second power, two-second power, etc., right up to the session duration.
How do I use this info
You can use this graph to discover your maximum average power for a given interval. For instance, to find your power for a 5 minute interval, simple move the cursor along the graph to the 5 minute point, and you'll see your average power for that period.
What options are there
The graph can show just a single session, or it can show a range of sessions by using the filter button in the toolbar to filter by date range or sport.
Force/Power Graph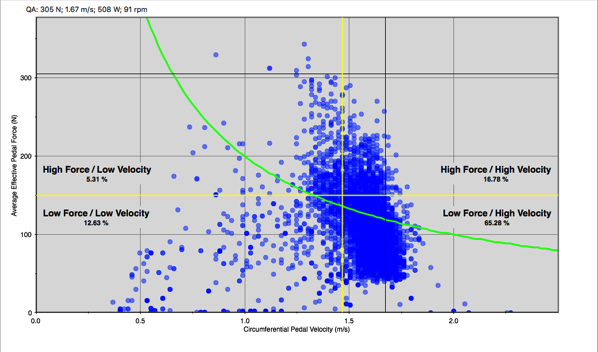 This graph divides the session data into low cadence/low power, low cadence/high power, high cadence/low power & high cadence/high power areas. Each sector shows the percentage of the total ride time spent in this quadrant. The concept for this was developed by Dr. Andrew Coggan.
How do I use this info
This graph lets you see if you pedal stroke is more of a 'spinner' or a 'masher' for a given ride. You'll also see a difference depending on the type of ride or terrain. The percentage of total time is shown for each quadrant
What options are there
The dividing line for power is set to user's FTP, but can be changed; dividing line for cadence is set to 80 rpm, but can also be changed.