In the forthcoming release of iSMARTtrain for the iPad (it's coming soon, I promise!), we download Garmin data via the Garmin Connect site. However, with the problems of Garmin's outage over the past few days, I've been looking at other ways for getting the data off my Garmin.
In common with most (but not all) iPads, my device has a lightning connector, and there's no way to directly plug in a USB cable. However, Apple make a camera adaptor, which plugs into the lightning port and has a USB socket along with another lightning port. I've used this in the past to connect my camera and to use a mouse with my iPad. Unfortunately, when I connected my Edge 530, I got mixed results. The Garmin showed all indications of being connected to a computer, but the screen showed 'External Power Lost'. I took this as an indication that the iPad didn't have enough power for the Garmin. Connecting a lightning cable from a powered hub to lightning port on the camera adaptor fixed this, and the Garmin appeared in the 'Files' App. It DOES take some time to appear, though.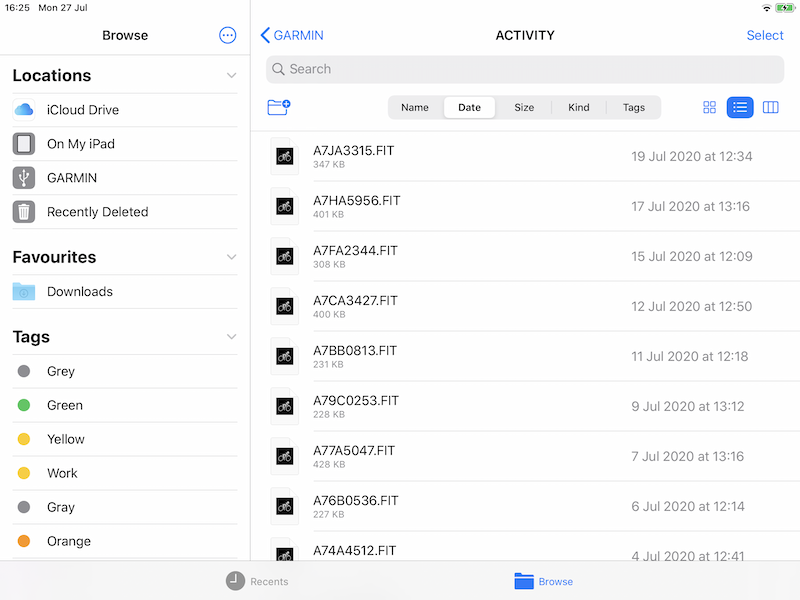 Now that the device is connected, how to get the files into iSMARTtrain? Well, you could use the import function, and just navigate to the folder on the device, or you can open the Files app and drag-and-drop the .fit files onto the iSMARTtrain, as shown below.
A couple of caveats: This probably won't work with some Garmin models like the Forerunner 945 & the Music versions. I don't have one handy to test with, but I believe these don't work like a USB drive. Also, the newer iPad Pro models have a USB-C connector instead of a lightning port. You should be able to connect your Garmin directly to these, but I don't know if these supply enough power to the Garmin for it to work – if not, then you may need to connect through a powered USB hub.